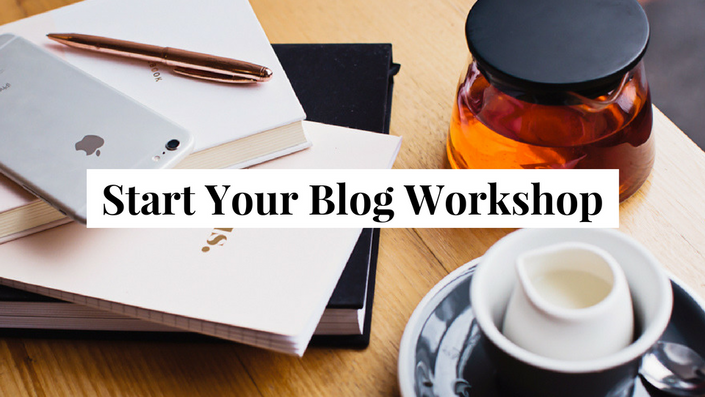 Start Your Blog Workshop
Everything You Need To Know To Start Your Blog
Girl, it's time to finally start your blog!

Does this sound familiar…


You've been planning to start your blog for months (or even years!) but fear and self-doubt keep creeping in.


You're constantly searching Pinterest for blogging advice, hoping inspiration will finally strike. But every time you have a good idea, you second guess it. You're terrified of what your friends and family will think and you're scared it'll be a waste of effort.


You know you're more than capable but you let silly things hold you back - like the fact you don't know what to call it, you don't know what to write about and you don't know where to start.


You're a chronic procrastinator. You feel guilty you still haven't started. And you're in a rut. But you're worried you'll get disheartened and throw in the towel, and that your blog will become one more thing you don't follow through on.


But it doesn't have to be that way!
Introducing…
The Start Your Blog Workshop

You might find this hard to believe, but I used to be in exactly the same situation you're in right now.


It took me 6 months to muster up the courage to start my blog and another 3 months to publish my first post (which I deleted within 24 hours because I didn't think it was good enough). I was crippled by fear and self-doubt and I was TERRIFIED of what my friends and family would think.


I felt like an imposter and kept my blog a secret. Who was I to be giving advice when I knew nothing? And why would anyone want to listen?


But I refused to give up on myself. And Smart Twenties started to grow.


I started getting 50 new email subscribers a week and then 100 new email subscribers a week and then more. I created an online course. I quit my full-time job for blogging. My inbox is now full of thank you emails (thanks guys!) and my content now inspires hundreds of thousands of women around the world.


But it's been a rollercoaster ride to get here. And I WISH I had someone to guide me through the fear and self-doubt when I first started and helped me avoid all the silly mistakes I made.

The Start Your Blog Workshop is a 2-hour online workshop that will give you the technical tools, support and confidence you need to start your blog - even if you have no idea what to call it, no idea what to write about and you're terrified of what other people will think!


This workshop is the kickstart you've been waiting for and you don't want to miss it!

In The Workshop You'll Learn:

- How to manage imposter syndrome and your fear of judgement


- Why it's not too late to start a blog


- The practical things you can do to come up with the perfect blog name


- How to figure out what to write about, even when you're not an expert at anything (and how to overcome your fear of being boring)


- What it means to have a 'self-hosted' blog and whether you should have one


- The technical side of starting a blog and how to find the prettiest free template (it's so simple that you don't need to be good with computers!)


- How to deal with perfectionism and your need for things to be perfect before you start


- How to keep yourself motivated to blog and balance blogging with a full-time job or study


- Advice on how to 'feel the fear and do it anyway'


- And much more!
You'll Also Get:

- Personal guidance and feedback from me in the Smart Twenties Bloggers facebook group (it's basically like coaching) as well as my weekly facebook livestreams to help you stay motivated with your blog


- A printable workbook to help you gather your ideas and start your blog


- An exclusive website hosting deal that will save you $$$ on your new blog, created especially for Smart Twenties bloggers

- Access to a community of like-minded new bloggers who will support you and stop you from feeling alone - yay!
But Isn't Blogging Dead?

Blogging is far from dead. And if you want to be successful online, you need your own website now more than ever.

Instagram has shown us time and time again that they're not afraid to change their algorithm whenever they so please, even if it hurts content creators. Did you know it's likely only 6% of your audience will see your Instagram posts unless you pay Instagram enough $$$ to promote it? And it's only going to get more expensive as big brands with big wallets start to take advantage.

Not to mention the fact that if your account gets hacked or Instagram dies (just like MySpace and Vine did), your followers will have no way of finding you again and all of your hard work will be lost?

Or maybe you're thinking of starting a YouTube channel or a podcast? Same problem!

You need somewhere your followers will always be able to find you.


When you have a blog, it's easy to build a base of loyal fans, get paid to create content (hello sponsorships!) and make money sharing your favourite products with your readers.


When you have a blog, it's easy to grow your email list (which is ESSENTIAL if you want to make money blogging) and promote your own products.


When you have a blog, it's easy to make an impact. And it makes it easy to grow your Instagram account and YouTube channel and podcast too.


If you want to be successful, you need a blog. And the longer you wait to get started, the more competition there will be and the harder it will be to stand out.

Girl, it's time to stop procrastinating! And the Start Your Blog Workshop is the kick in the pants you've been praying for.
I want to do the workshop! How much will it cost?

Girl, I got you. You can do the workshop and get all the extra goodies (including personal feedback and advice from me) for only $29!

For only $29, you'll learn everything you need to start a successful blog and feel motivated to finally do it. YASS!
This workshop will only be available at this price until midnight (EDT) on Saturday, 25 August 2018. After that, you'll need to invest $99 in my new blogging course to get access - so don't miss this opportunity to get the motivation and inspiration you need to get noticed online at this special price!

Sign up now for just one payment of $29
note: registration will close strictly at midnight (EDT) on Saturday 25 August 2018



Sorry! This course is not currently open for enrollment.
Your Instructor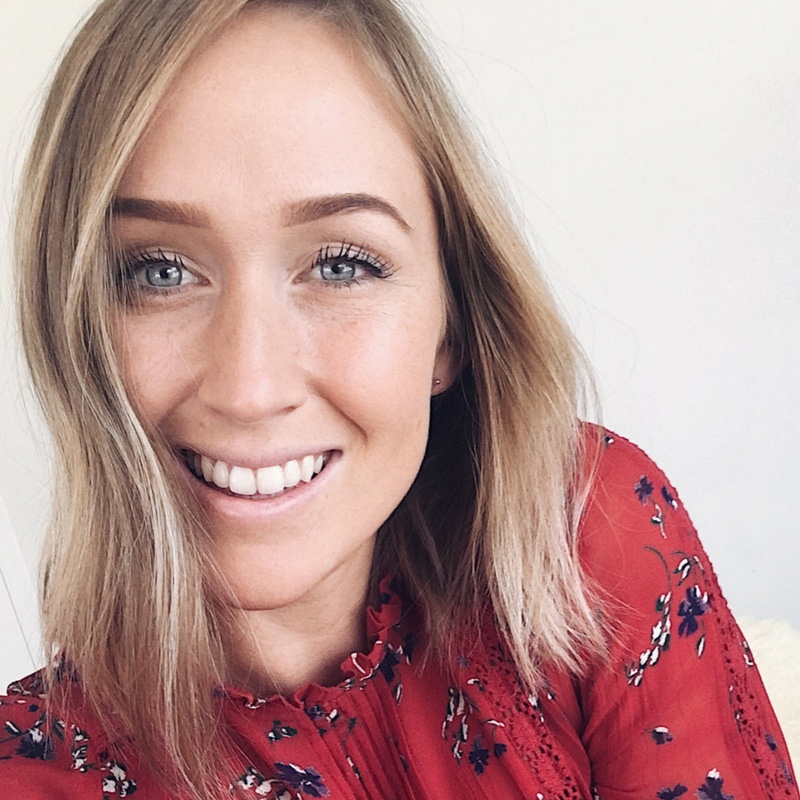 I'm Sam Laura Brown – founder of the Perfectionists Getting Shit Done group coaching program and host of the top-rated podcast, The Perfectionism Project.
Over the last six years, I've coached and supported thousands of women on their journeys to beat procrastination, overcome perfectionism and become their best self.
With more women joining every day, our Perfectionists Getting Shit Done group coaching program is an incredible source of support, knowledge and encouragement for your personal development journey.
Become part of our community today!

Join a community of up-and-coming bloggers who get you:
"I'm super excited for your Start Your Blog Workshop! I've been wanting to create a blog for a while now, but I always find myself postponing it, mainly because there's too much stuff I would love to write about and every advice I read or hear tells me that I should focus on a specific topic, to increase the chances of standing out.

I am hoping that this workshop will be just the little push that I need to start my blog, and I am hoping it will help me find a great name for it (because I am terrible with names and have been struggling with it for ages). Also, I am at a place right now in my life where I think it is the perfect time to start a blog. I am stuck at a job that I don't love, and I think having something else to look forward to, that would challenge me and help me grow personally would be just what I'm needing."

- Beatriz


---

"I have always been held back from starting my own blog because I've always been afraid that no one will want to hear what I'm saying, or that I wont't be able to get to where I want to be which will lead to disappointment.


I know that this fear just shows how much succeeding in blogging actually means to me… but as an aspiring psychologist, I know that our minds always hold onto negative thoughts rather than positive. I'm also not sure how to get started and am a little worried about not knowing what to write.

I am just approaching my mid-semester break, and the blog workshop opportunity that you are providing seemed great, and I am so so so glad I registered. Cant wait to work with you!!"

- Chelsea


---
"For as long as I can remember, I've always had the intention create some kind of life for myself that involved writing, whether it be a blog, book or newspaper articles (truth be told, I secretly thought that by this point, I'd be on top of the world). Instead, I sit at a desk all day, doing a job I hate, longing for some kind of fulfilment!

I've been carrying a notebook around in my handbag for months, hoping the inspiration will strike me to finally put pen to paper. That notebook remains empty to this day.

I know I am more than capable, but I let stupid things hold me back - for example, I love to write on paper, but spend half the time criticising my handwriting! My main goal is to overcome my perfectionist nature and finally achieve something that will pull me out of the rut I am currently stuck in. I'm really looking forward to the course!! :)"

- Jemma


---
"Thanks so much for creating a workshop like this. And thank you for addressing mindset as apart of this too!

I've wanted to start a blog or my own business of some sort for forever, but so many things have stopped me - fear of failing, struggling to find a name or land on a concept, etc. I've always been super passionate about mindset and wellness, and I LOVE to research and write...so the idea of a blog just makes sense to me! More than anything, I just want to be able to surround myself more with a topic like this that lights me up, and to be able to build a community from that. These are things that I am genuinely so passionate about.

I LOVED your recent post about failing/failing to start on purpose. Holy moly. Am I guilty of that or what! There are so many things that light me up, and I went down the "what is my purpose?" rabbit hole when I started to question the thing I thought I wanted to do with my life. It was an awful time! But now I'm focusing on what lights me up and just going with the flow. I'm looking for more balance, and I feel that something like a blog...writing and speaking about things that just make me jump for joy, will make so much of a difference. Thank you again. I'm so excited to get started!


- Jess


---
"What a surprise, I signed up for your workshop!!

I just can't resist anything you put out haha! So I've been hmm-ing and haww-ing about starting a blog for a while now but never fully dream it through of what it would even be about and have came up with the belief that it'll just be too much start-up effort to even go there...but at the same time t he idea still floats around in my head and I think it's something I might like to do, so here it goes!!

Can't wait for the workshop"


- Aoife

Questions You Might Have:

What if I don't know what kind of blog I want to start or what I want to call it? Perfect! That's exactly what the workshop is for. If you already knew everything, there'd be no point attending.

What if I'm too boring to be a blogger? I had this fear too! Turned out it was just a classic case of self-doubt. I'll be teaching you how to deal with that in the workshop.


What if I've already started a blog but I abandoned it? This workshop will be perfect for you! I'll help you uncover the reason you abandoned your blog and everything you learn will make you feel inspired to pick it back up (or to start a fresh one - the choice is yours).

Is the workshop live? This workshop was held live on Sunday, 10 June 2018 so no, this isn't a live workshop anymore BUT it'll feel like you were there live and you'll be able to do the workshop at whatever time is most convenient for you.

I'm so busy at the moment, how am I going to find the time to do this? Girl, I've got you covered! You'll have ongoing access to everything so it'll all be at your fingertips when you're ready to get started.


How long will I have access to everything? Your lifetime, literally. Though the longer you wait to start your blog, the more competition there will be and the harder it will be to get noticed - so I don't recommend putting it off for too long!


What will I need? Just the ambition to be a blogger and an internet connection. If you don't have access to a printer you'll still be able to read the workbook online!


What currency can I pay in? You can pay in your local currency via Paypal, debit card or credit card. The price of the workshop is in USD.


How much time will I need? You'll only need 2 hours to watch the workshop and less than 1 hour to get your blog setup (yes, you read that correctly). Spending time on the workbook and getting my personal feedback is optional, but you'll probably feel so inspired you won't be able to stop yourself!




Sign up now for just one payment of $29
note: registration will close strictly at midnight (EDT) on Saturday 25 August 2018



Sorry! This course is not currently open for enrollment.
The longer you put off starting, the harder it will be to stand out!
Not sure you're ready to start blogging? You're never going to feel ready. And there will never be a perfect time. What you need is a kickstart and that's what I'm going to give you. Plus being surrounded by a community of like-minded new bloggers and getting my personal guidance won't hurt either.

Don't keep procrastinating - the longer you wait, the more competition there will be and the harder it will be to get noticed. Sign up today.