Perfect Blogger
The Ultimate Blogging Course For Perfectionists
WHAT IF YOU HAD THE CONFIDENCE TO TURN YOUR DREAM OF BLOGGING INTO A REALITY?

Guess what... you can!


---
Girl, does any of this sound familiar?


Always procrastinating. You've been planning to start your blog for months (or even years) but fear and self-doubt keep getting in the way. You're scared you can't live up to your insanely high expectations so you don't try to live up to them at all.
Longing for a more fulfilling career. Your life is great by most people's standards but you know you were meant for more than the 9-5 life and you dream of being your own boss (and actually making a difference!).
Can't get your blog idea off the ground. You're smart and ambitious but you just can't seem to get going - you don't know where to start, what to write about and if it's even worth the effort.
All-or-nothing. You're either doing everything perfectly… or you're not doing anything at all. No matter how motivated and excited you feel at the start, you struggle to stick to anything. Life always gets in the way or you're just too exhausted to follow through.
Scared to start something you won't stick to. You're a chronic procrastinator and you're scared blogging will be yet another project you abandon. You don't know if you can handle the disappointment.
---
Did you nod your head to any of that?
You're in exactly the right place!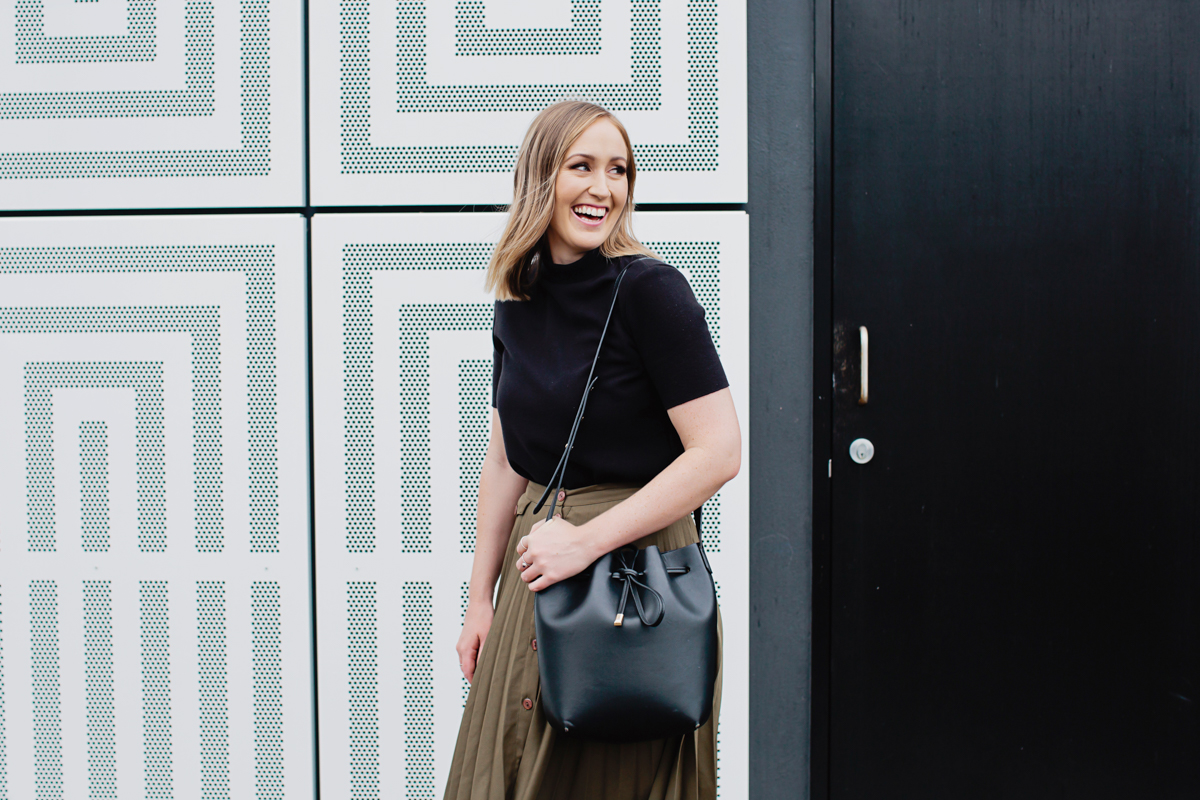 ---
IMAGINE IF YOU COULD...
✔ Feel totally confident that you have the skills and mindset to become a successful blogger. No more second-guessing and wasting your precious time on the wrong things.
✔ Feel like you're on the right path and that you're doing what you're meant to be doing with your life.
✔ Have the freedom to work from anywhere in the world while doing something that makes you feel excited and fulfilled.

✔ Reach your full potential and empower thousands of women all around the world - just by being you!
---
Introducing your new best friend...
PERFECT BLOGGER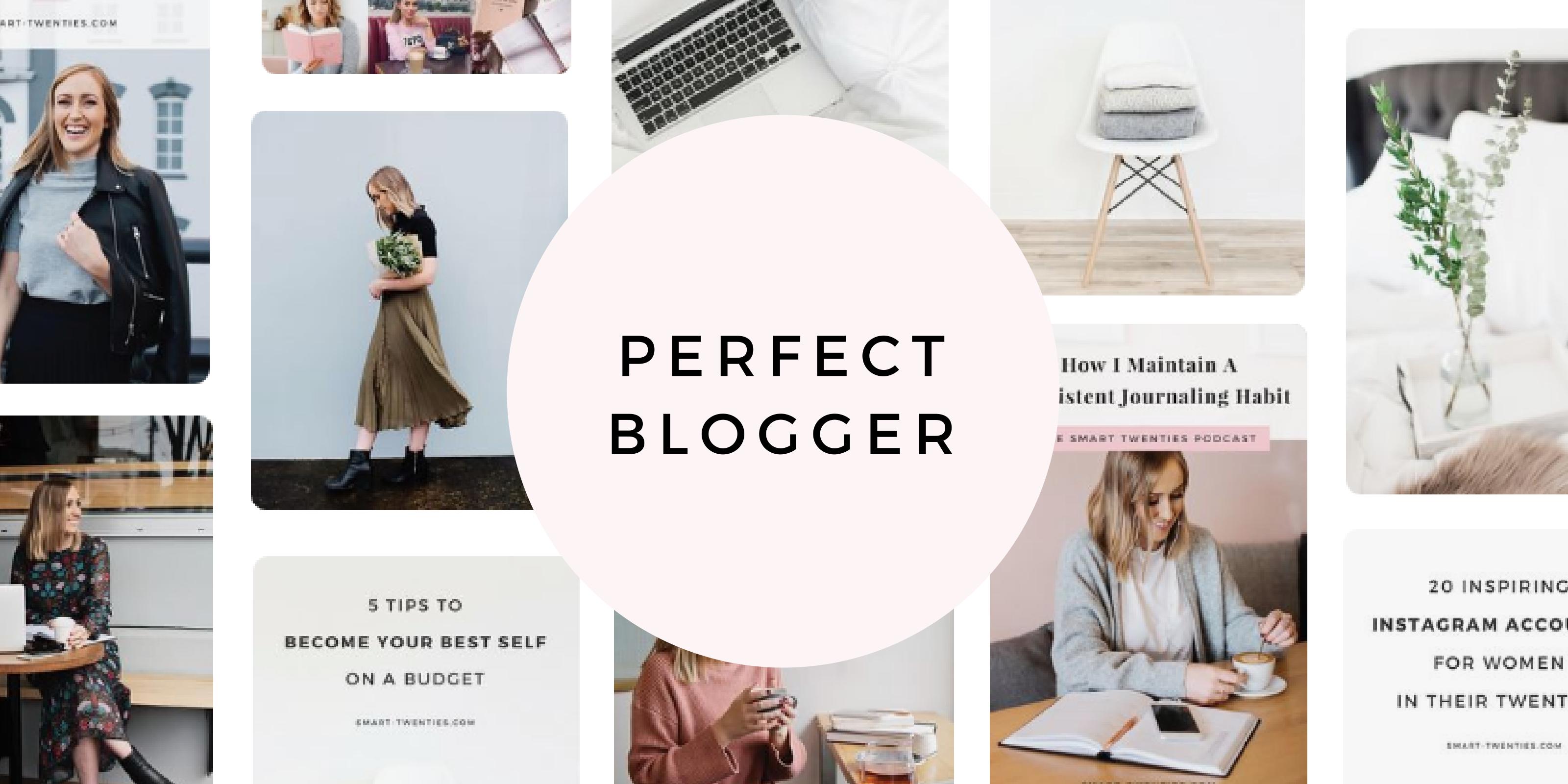 Perfect Blogger is my step-by-step online course and community where I'll teach you the mindset and strategies I used to quit my full-time job for blogging, build a thriving online business and empower thousands of women all around the world! There's no better time than now to start a blog. This is your opportunity to join hundreds of aspiring bloggers as you learn everything you need to turn your dreams of being a blogger into a reality.

Perfect Blogger is the ultimate blogging course for perfectionists. This course will teach you the fundamentals of blogging AND how to master your mindset so you can get out of your own way and reach your full potential. I teach you everything you need to know about blogging in Perfect Blogger - for a fraction of the price that other successful bloggers charge!
I haven't always been a successful blogger...
Just two years ago, I was completely stuck.
My life was great by most people's standards - I was smart and ticking all the boxes - but I knew I was capable of so much more. I was working full-time in accounting (a career I was NOT passionate about) and spent every weekend hustling on my blog, wondering when my hard work would finally start paying off.
After three years of blogging, I was embarrassed I only had 200 email subscribers to show for my late nights, early mornings and missed social gatherings. Wasn't I meant to be further along by now? Wasn't it meant to stop being so hard?
By this point, I'd spent thousands of hours learning about blogging. Years of watching every single webinar, reading every single blog post, listening to every single podcast episode. But looking at my life from the outside you'd think I was completely unaware!
I knew it but I wasn't doing it. I was paralysed by fear of failure, fear of success and every fear in between. I couldn't get out of my own way and make myself do what I needed to do - no matter how hard I worked to keep myself motivated.
Until one day, I just snapped. I'd had enough. Holding myself back was exhausting and I couldn't let it go on any longer. In that moment, I decided I wasn't going to keep wasting my twenties trying to make other people happy.
The good news was that I didn't have to work harder. Instead, I simplified everything and I started showing up, even though I still felt scared.
I started investing in myself. I woke up at 5am every morning to work on my blog. I studied blogging and mindset like my life depended on it. I learned how to stop triggering my all-or-nothing mindset. I figured out how to stop letting fear of judgement define my ambitions.
Within weeks, my blog started to grow. My life was still as hectic and jam-packed as ever but I was getting 50 new email subscribers a week and then 100 email subscribers a week and then more.
Just one year later, I quit my full-time job for blogging, my inbox was overflowing with thank you emails and my content was empowering hundreds of thousands of women around the world.
I'm just a girl who decided to go for it. I wasn't born confident, extroverted or a natural entertainer but I stopped letting that identity hold me back. Just because I was introverted (and had a tendency to people-please!) didn't meant I couldn't be successful. And it hasn't. I just needed to learn how to make it work for me, not against me.
If I could do it, you can do it too.
SO, WHAT'S INCLUDED?
After watching these three blogging workshops for perfectionists, you'll have the confidence and mindset you need to become a successful blogger: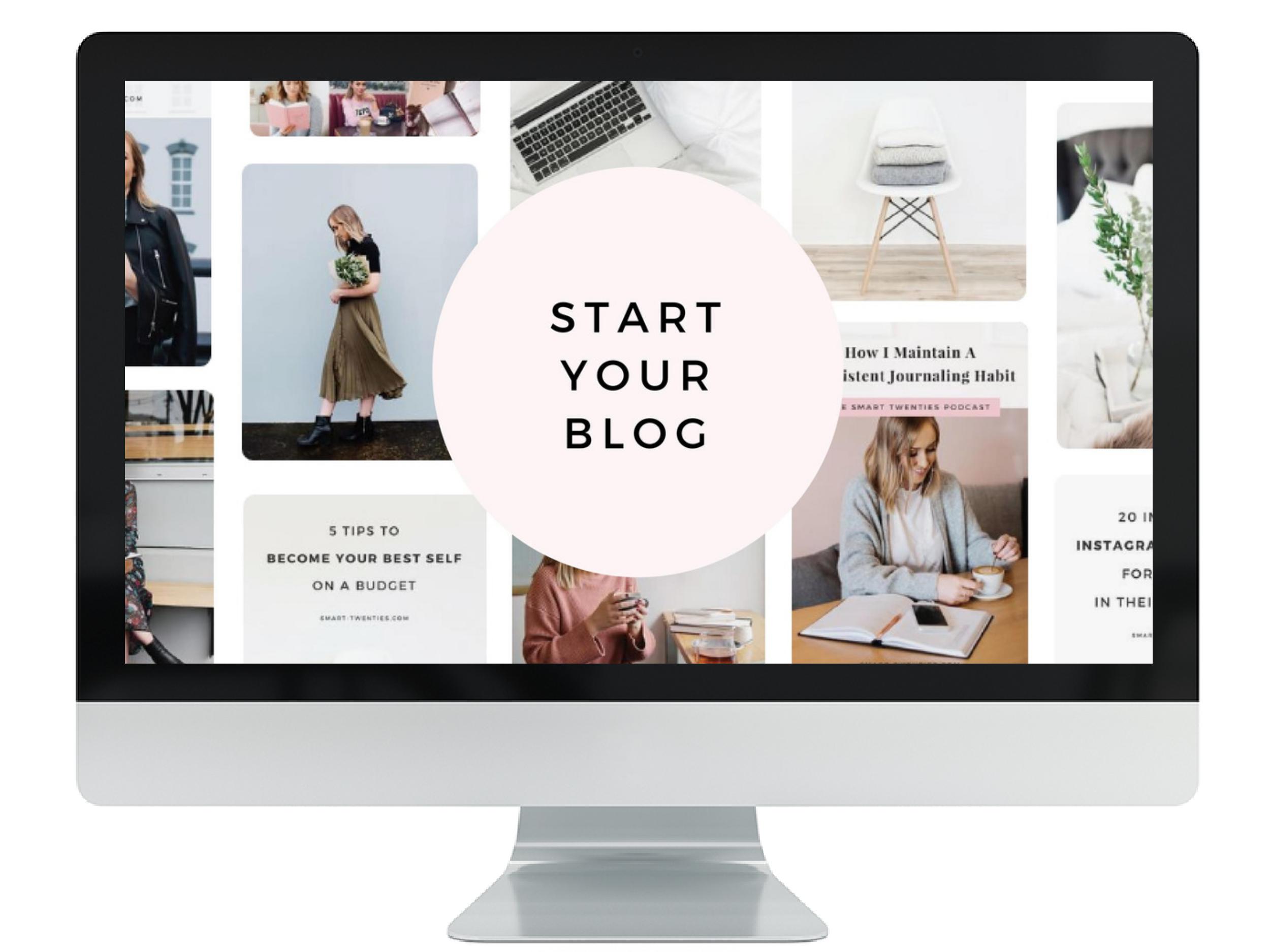 Workshop 1: Start Your Blog Workshop
2 hours 14 minutes

You'll learn:
• Practical guidance to overcome perfectionism, procrastination and fear of judgement so you can get your blog idea off the ground
• How to setup your blog and make it look beautiful from day one, even if you suck at technology and have no idea what to do
• The mindset that will guarantee you never abandon your blog
• How to find your niche and figure out what to write about, even if you're not an expert at anything and you're scared you're too boring
• How to stay motivated and balance blogging with full-time work or study
Here's why Candice loved the workshop:
"Everything you said was 100% applicable to me. It felt like you knew EXACTLY what as been running through my mind over the last few years - it was absolutely crazy! Everything you said I was just sitting there saying to myself "Yes! That's me!!"."
---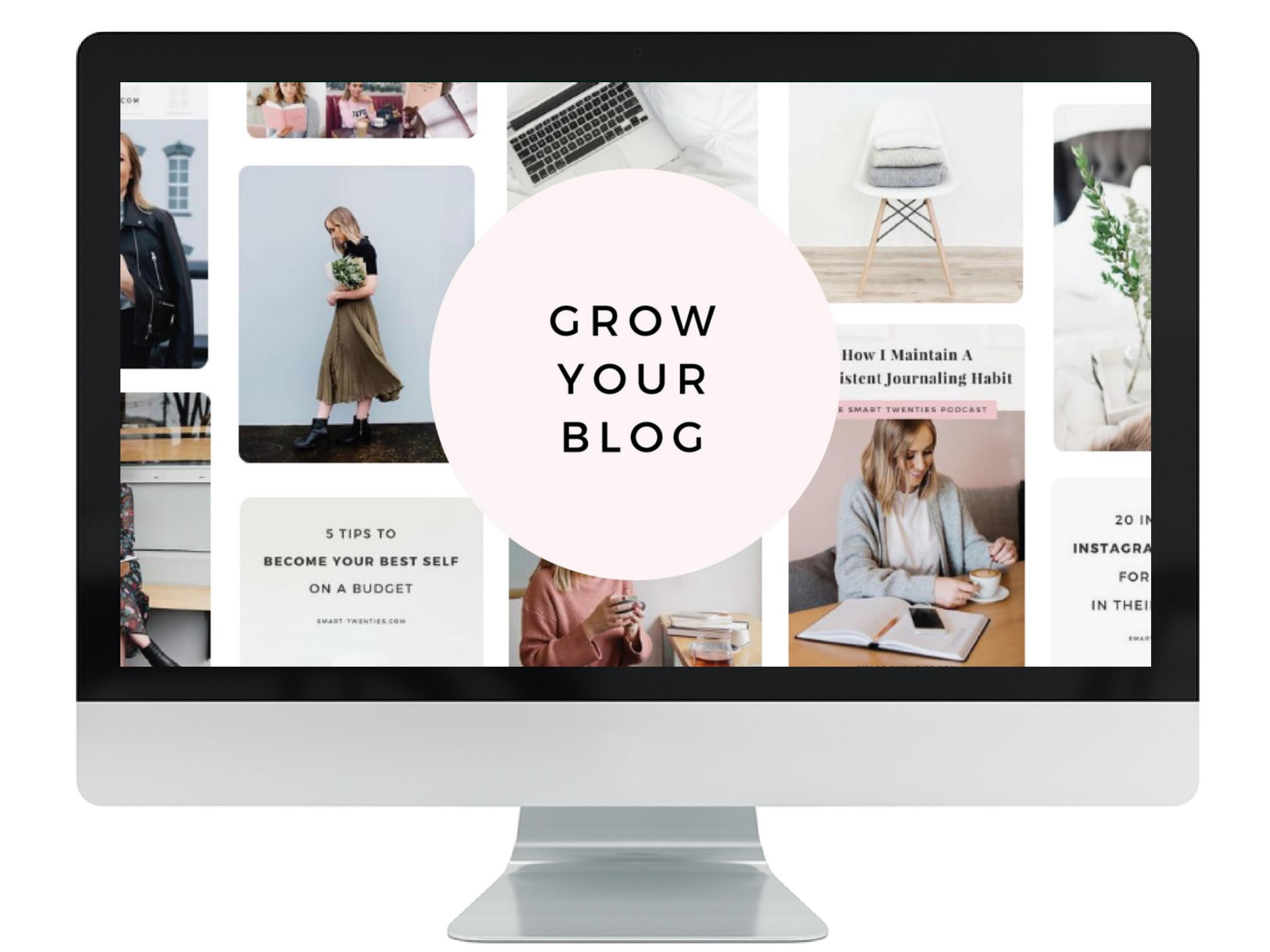 Workshop 2: Grow Your Blog Workshop
2 hours 36 minutes

You'll learn:
• The essential foundations of growing your blog and creating an online space that your readers will love
• How an email list works and how to start getting email subscribers from day one
• Practical productivity advice so you never feel overwhelmed, even if you only have a few hours a week for blogging
• How to find your voice and stand out amongst a sea of bloggers
• The tools and resources that I can't live without and help me stay consistent with blogging
Here's why Erica loved the workshop:
"I just wanted to take the time to write and thank you for the workshop. I was telling my husband over dinner that I've spent more money on something much less valuable. Your little nuggets of wisdom was what made all the difference."
---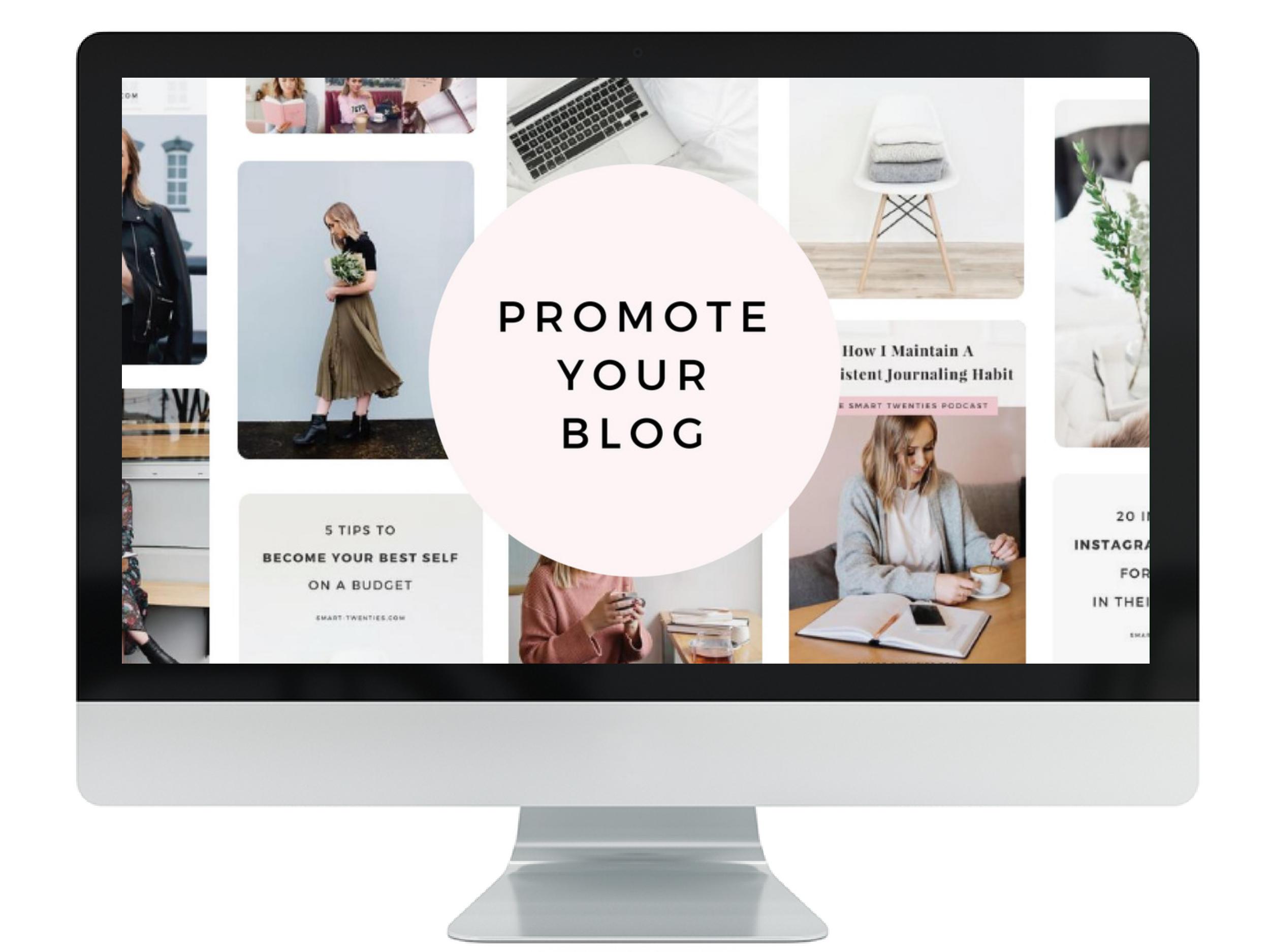 Workshop 3: Promote Your Blog Workshop
2 hours 1 minute

You'll learn:
• How to promote your blog even if you're scared of what people will think and have no idea where you should be spending time
• My must-have apps and workflows for getting thousands of readers to my blog every month and creating eye-catching social media graphics
• The essentials of growing your blog with Pinterest and the exact strategy that is responsible for my blogging success
• Which social media platforms you should and shouldn't use to promote your blog
• The most common self-promotion mistakes bloggers make and how to avoid them
Here's why Georgia loved the workshop:
"I'm SO SO thankful you shared so much on personal development around promoting yourself and branding yourself and how uncomfortable it can be! And how to move through it and do it anyway. I think I'd have given up otherwise, so thank you so much Sam."

WANT AMAZING BONUSES? YOU'VE GOT THEM!

How about 7 step-by-step blogging tutorials that will make growing your blog a breeze? In these tutorials I simplify the best of what I've learned from 5 years of blogging and thousands of dollars spent on blogging courses. I'm giving you EVERYTHING you need - all in one place!
✔ How To Start Your Blog
✔ How To Find A Beautiful Blog Theme
✔ How To Find Beautiful Photos For Your Blog

✔ How To Create A Custom Gmail Address For Your Blog

✔ How To Start And Grow Your Email List

✔ The Perfectionist's Guide To Pinterest

✔ The Perfectionist's Guide To Instagram

Plus 3 bonus blogging and mindset workbooks filled with powerful exercises that will help you sort through your ideas, get out of overwhelm and create a clear plan for success.

And access to my exclusive Facebook community filled with hundreds of like-minded bloggers who get you! Surrounding yourself with people who make your goals feel normal is one of the most powerful things you can do and it's easy with the Perfect Bloggers Facebook community! As soon as you join you'll be able to meet aspiring bloggers from all around the world (and in your city too).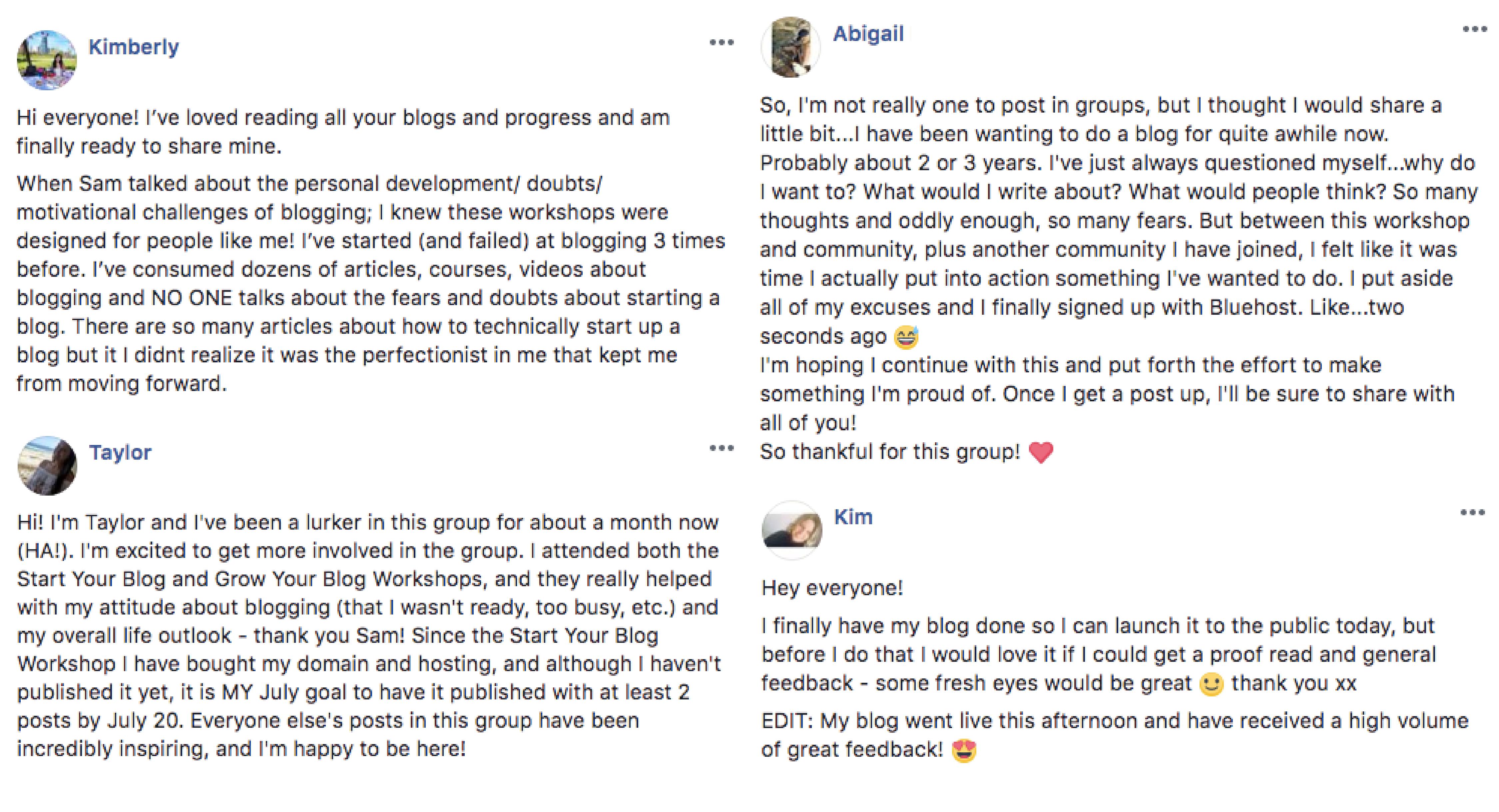 Take a closer look at everything below:
Course Curriculum
Start Here
Available in days
days after you enroll
Workshop 1: Start Your Blog Workshop
Available in days
days after you enroll
Workshop 2: Grow Your Blog Workshop
Available in days
days after you enroll
DON'T JUST TAKE MY WORD FOR IT
"I started a blog at the start of the year and have been working on your workshops, they are amazing. Thank you so much for sharing your experiences so openly and honestly."

- Montana


---

"Honestly I was very on the fence about registering because I am SUPREMELY broke right now. Wee college student here :) But I'm just in a very interesting place right now where I feel like I am on the cusp of something.

I have so so many dreams and sometimes get so overwhelmed because I am unsure how to proceed to get closer to them. Sometimes it seems downright impossible. And yet, I do believe in myself and I believe each and every one of my dreams is possible. One of the dreams, and the one many others stem from, revolves around growing and improving my blog that I've had for a year now. I am so passionate about blogging and I know I definitely want to take it to the next level, but it's hard when you're on your own to figure out what exactly to do to start that process.

Your course was honestly so affordable and came at such a perfect time and seemed to offer exactly the perfect components, so it was a no-brainer. Thank you for doing this!


- Nicole
---
"Super excited to be apart of the workshop (and so excited it did not cost me $700…. Almost paid that today!!) Instead I found you, and bought 2 pairs of shoes with the difference :P Thanks!!"
- Danie

---
"Thanks so much for creating a workshop like this. And thank you for addressing mindset as apart of this too!
I've wanted to start a blog or my own business of some sort for forever, but so many things have stopped me - fear of failing, struggling to find a name or land on a concept, etc. I've always been super passionate about mindset and wellness, and I LOVE to research and write...so the idea of a blog just makes sense to me! More than anything, I just want to be able to surround myself more with a topic like this that lights me up, and to be able to build a community from that. These are things that I am genuinely so passionate about. Thank you again."

- Jess
Get instant access now for just one payment of $99

MEET YOUR MENTOR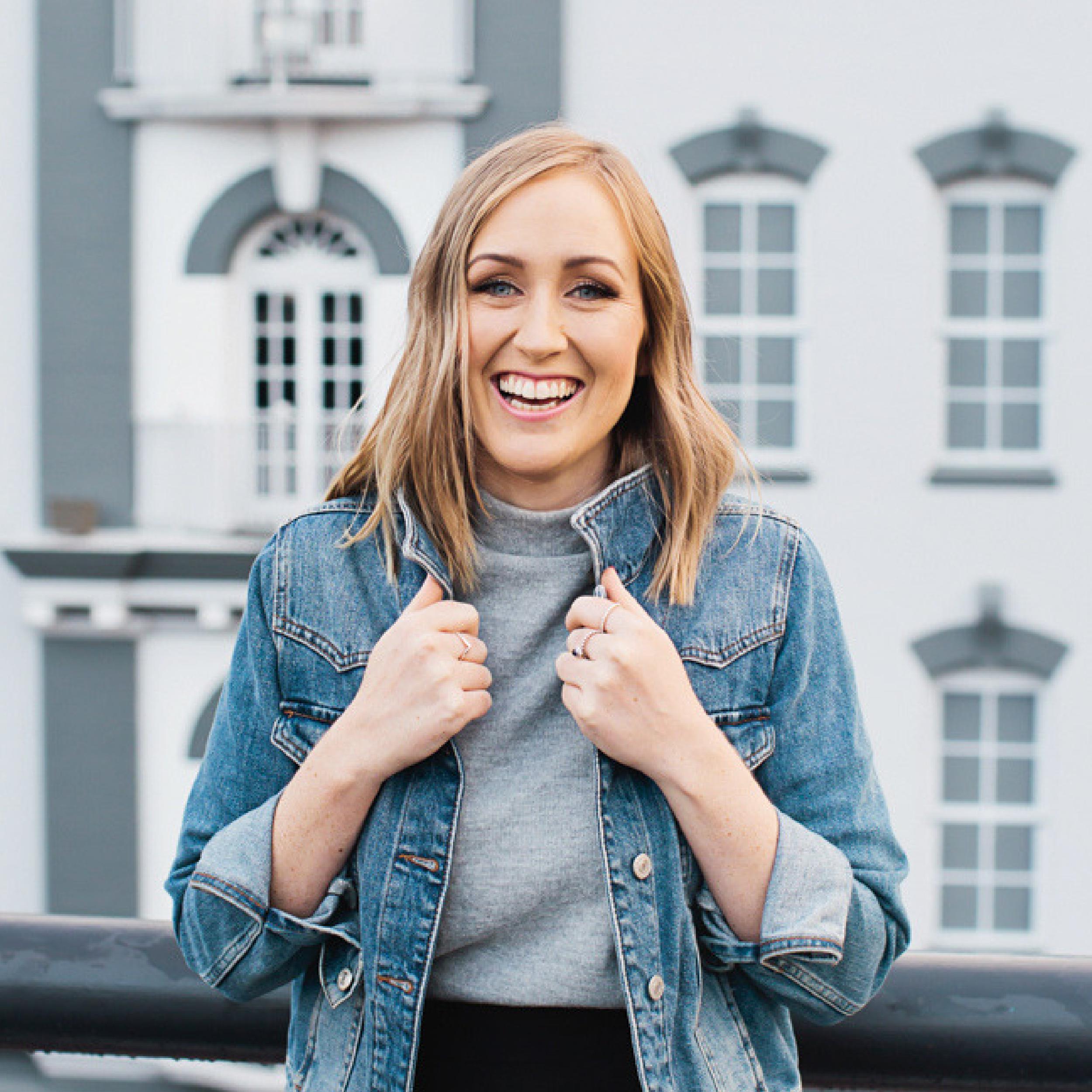 Hi, I'm Sam! I'm a mindset coach, founder of Smart Twenties and host of The Smart Twenties Podcast - one of the top self-help podcasts on iTunes.
My own personal journey lead me to leave my law and finance degrees behind so I could pursue blogging and make a difference in the world. Quitting my corporate job and veering off the traditional path to success was scary, but it has been the most rewarding thing I've ever done for myself and my personal growth – and I haven't regretted it for a second.

After 5 years of blogging, I know what it takes to succeed in the blogging world as a perfectionist and I'm here to teach you everything I know. Let's get started!
---
QUESTIONS YOU MIGHT HAVE
How much time will I need?

It takes time and effort to grow a successful blog but this course will help you do it in as little time as possible! You'll need two hours to watch each of the workshops (to get your mindset on point) and some additional time to work through the bonus step-by-step tutorials. This course guides you through starting, growing and promoting your blog and it's completely self-paced. But my guess is once you start, you'll feel so inspired you won't want to stop!
I'm so busy at the moment, how am I going to find the time to do all of this?
We all get busy at times so I completely understand. This course is self-paced and you'll have lifetime access to everything so you'll have it all at your fingertips at the exact moment you need it. The reality is that it'll take you way longer to do everything without this course, especially if fear and self-doubt have been keeping you stuck. Basically, you don't have time NOT to do this course.

I'm not sure if I'm a perfectionist! How do I know if your course will work for me?

Many people with the perfectionist mindset don't even know they have it! If you struggle with any of these things, Perfect Blogger can help you: procrastination, over-thinking, imposter syndrome, fear of failure, fear of success, fear of judgement and what people think, overwhelm, people pleasing, excruciatingly high standards, never feeling good enough no matter what you achieve.
What if I don't know what kind of blog I want to start or what to call it?
Perfect! That's exactly what this course will help you figure out (and heaps more).

What if I've already started a blog but I abandoned it?
This course will be perfect for you! I'll help you uncover the reasons you abandoned your blog (so it doesn't happen again) and everything you learn will make you inspired to pick it back up or start a new one - the choice is yours!
I'm scared I'm too boring to be a blogger!
I had this fear too! Turned out it was just a classic case of self-doubt. I'll be teaching you how to deal with this in the course.
When are the workshops? Are they live?

The workshops are pre-recorded but they were originally held live so it'll feel like you were there! You'll get instant access to all three workshops as soon as you sign up (as well as the bonus step-by-step tutorials, the private Facebook community and all of the other goodies). Everything will be there for you whenever you're ready for it and you can watch the workshops as many times as you need!
How long will I have access to everything?

Your lifetime, literally. But the longer you wait to start your blog, the more competition there will be and the harder it will be to get noticed - so I don't recommend putting it off for too long!
What will I need?

Just the ambition to be a blogger and an internet connection. If you don't have access to a printer you'll still be able to read the workbooks online. And while I recommend various paid blogging tools that you can invest in, I've made sure there are free options for everything too!
What if I don't like the course or it doesn't work for me?

I'm so confident you'll be delighted with the course that I offer a 30-day money back guarantee, no questions asked! All you'd need to do is send me an email and I'll refund your investment - it's as simple as that.
I've heard some people say that blogging is dead, is that true?

Blogging is far from dead and if you want to be successful online, you need your own website now more than ever. Instagram has shown us time and time again they're not afraid to change their algorithm however they please, even if it hurts creators. And did you know that it's likely only 6% of your audience will see your Instagram posts unless you pay Instagram enough money to promote them? And it's only going to get more expensive as big brands with big wallets start to take advantage.
Not to mention the fact that if your account gets hacked or Instagram dies (just like Myspace and Vine did), your followers will have no way of finding you again and all of your effort will be wasted. Or maybe you're thinking of starting a YouTube channel or a podcast? Same problem!
You need somewhere your followers will always be able to find you. When you have a blog, it's easy to build a base of loyal fans, get paid to create content (hello sponsorships!) and make money sharing your favourite things with your readers. When you have a blog, it's easy to grow your email list (which is ESSENTIAL if you want to make money blogging) and promote your own products. When you have a blog, it's easy to make an impact and to grow your Instagram account and YouTube channel and podcast too. If you want to be successful online, you need a blog - even in 2018.
How much does the course cost?

The course is one investment of $99 and you'll get instant access to everything you'll need to turn your dream of blogging into a reality (including all future updates).
What currency can I pay in?

You can pay in your local currency via Paypal, debit card or credit card. The price of the workshop is in USD.
I've done other blogging courses, will I learn anything new in this one?

Fair question, but this isn't your average blogging course - this is a blogging AND mindset course for perfectionists. I've never been able to find a blogging course created especially for perfectionists, have you? Having the best knowledge in the world doesn't matter if you don't have the right mindset - and that's what I'll teach you in this course (as well as all the technical stuff). So yes, you'll learn A LOT of new things in this course (and if you don't, you can use the 30-day money back guarantee).
Why is this course so much cheaper than other blogging courses?

Here's the truth - I've never wanted to be a blogger who blogs about blogging (personal development is my true love) but since the demand for my blogging advice only seems to keep growing, I thought I'd put everything I know in one place! I could charge A LOT more for this course (many bloggers charge $1,000+ for the same thing) but I believe this advice should be much more accessible, especially since no one is sharing blogging advice specifically for perfectionists. That's why I've made Perfect Blogger such an affordable investment (and a one-stop-shop!).
30-DAY MONEY BACK GUARANTEE
Perfect Blogger is my proven step-by-step method for starting and growing a successful blog in 2018. I'm so confident it works that I offer a 30-day money back guarantee - no questions asked!
If for some reason you're not happy with the course, all you'd need to do is send me an email saying that you want a refund and I'll send your money back without asking a thing.
It's completely risk-free!
---
Be the girl who decided to go for it
Think about what you want your life to look like one year from now or even six months from now. Do you have a plan to make it happen? Do you have the mindset to get there? Do you have the time to figure out how to do it yourself? If you don't have a plan to achieve your goals, you won't reach your full potential - that's the reality.
If you want to reach your full potential, Perfect Blogger is the step-by-step course you need to make it happen. Click the button below to sign up today and get instant access to everything you'll need!
Get instant access now for just one payment of $99