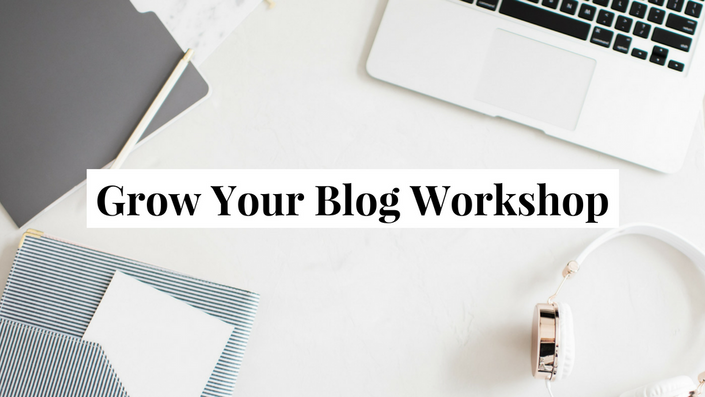 Grow Your Blog Workshop
How To Become A Successful Blogger
Girl, it's time to start growing your blog!
Does this sound familiar…

You thought things would get easier once you started your blog, but they haven't. You feel even more overwhelmed than when you first started and have no idea what to do next.
You're constantly searching Pinterest for advice, hoping to find someone who'll just tell you what to do, but you're struggling - every article contradicts the last and you can't figure out where to start.
You don't know how to get readers, you don't know what to post and you don't know how to stay motivated enough to do it after a full day at work! You're stretched for time as it is and you're worried you'll waste effort on all the wrong things.
Your perfectionism flares up every time you try to post and you can't stop yourself from spending all your time on the tiniest things. It feels like you're going backwards.
With each day that passes, you lose more motivation and the self-doubt gets louder. You're scared you're not good enough, you're scared everyone will judge you for trying and you're scared it'll all be for nothing.
But it doesn't have to be that way!
Introducing…
The Grow Your Blog Workshop
The first few months after starting a blog are the toughest. With no pageviews and no subscribers, it feels like you're talking to a brick wall. It feels impossible to know what to do.
And I know because I've been there! Because of my perfectionism and crippling self-doubt, I spent the first two years (!!!) of my blogging career with only a handful of readers - desperate to get noticed but not knowing what to change.
It took me thousands of hours to figure out what to post and when to post it, how to get email subscribers, how to balance blogging with full-time study/work and how to stay motivated when no one was reading. And I WISH I had someone to guide me through it when I first started!
The Grow Your Blog Workshop is a 2-hour online workshop that will give you the technical tools, support and confidence you need to grow your blog - even if you're completely overwhelmed!
This workshop will give you the tools you need to start growing your blog and you don't want to miss it!
In The Workshop You'll Learn:
- The things you must do to set yourself up for success and exactly how to do them (step-by-step)
- How to balance blogging with full-time work or study
- The practical things you can do to stay motivated when no one's reading
- How to find your voice, even when you're not confident (plus how to overcome your fear of being boring)
- The simple things you can do to start getting email subscribers this week and how to set everything up (even if you suck at computers)
- Why it's a good thing to have no readers in the beginning (and why it's completely normal!)
- The free programs I can't live without
- How to deal with perfectionism and your need for everything to be perfect before you hit publish
- And much more!
You'll Also Get:
- Personal guidance and feedback from me in the Smart Twenties Bloggers facebook group (it's basically like coaching) as well as my weekly facebook livestreams to help you stay motivated with your blog

- Easy-to-follow, step-by-step advice so you're not left guessing what to do next
- A printable workbook to help you grow your blog
- Access to a community of like-minded new bloggers who will support you and stop you from feeling alone - yay!
- An exclusive website hosting deal that will save you $$$ on your new blog, created especially for Smart Twenties bloggers (in case you haven't started your blog yet)
Can't I Figure This Out Myself?
It's true there are hundreds of thousands of free articles that can help you grow your blog (not to mention all of the podcast episodes and YouTube videos) but that's actually the problem - there are way too many!
Not only does it take months of hard work to piece all that advice together but most of it is contradictory, leaving you more confused and overwhelmed than you already were.
Why waste your time?
It took me over two years to figure out how to grow my blog because I tried to do it all on my own and wasted so much time on the wrong things! And I actually cringe to think how much further along I'd be if I hadn't been so determined to save a couple of dollars.
If you want to be successful, learning from someone successful is the easiest (and quickest) way to do it. The Grow Your Blog Workshop will be give you the simple roadmap you've been searching for!
I want to do the workshop! How much will it cost?
Girl, I got you. You can do the workshop and get all the extra goodies (including personal feedback and advice from me) for only $29!
For just one payment of $29, you'll learn everything you need to do to set your blog up for success. YASS!
This workshop will only be available at this price until midnight (EDT) on Saturday, 25 August 2018. After that, you'll need to invest $99 in my new blogging course to get access - so don't miss this opportunity to get the motivation and inspiration you need to get noticed online at this special price!


Sign up now for just one payment of $29
note: registration will close strictly at midnight (EDT) on Saturday 25 August 2018



Sorry! This course is not currently open for enrollment.
Your Instructor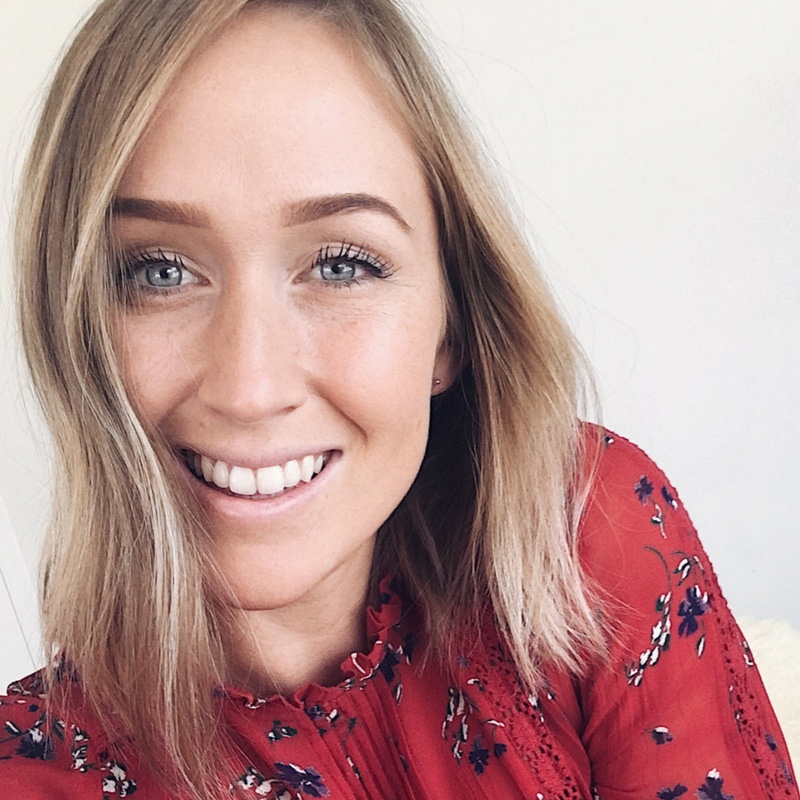 I'm Sam Laura Brown – founder of the Perfectionists Getting Shit Done group coaching program and host of the top-rated podcast, The Perfectionism Project.
Over the last six years, I've coached and supported thousands of women on their journeys to beat procrastination, overcome perfectionism and become their best self.
With more women joining every day, our Perfectionists Getting Shit Done group coaching program is an incredible source of support, knowledge and encouragement for your personal development journey.
Become part of our community today!

Join a community of up-and-coming bloggers who get you:
"I am absolutely new to blogging and want to jump in completely!
My biggest struggle getting started is trying to find my 'niche'. I've watched videos and read so many articles, this is what's stressing me a little! Anyways, super excited to be apart of the workshop (and so excited it did not cost me $700…. Almost paid that today!!) Instead I found you, and bought 2 pairs of shoes with the difference :P Thanks!!"
- Danie

---
"Thank you for running these online workshops. I attended the first workshop and loved it. Everything you said was 100% applicable to me. It felt like you knew EXACTLY what has been running through my mind over the last few years - it was absolutely crazy! Everything you said I was just sitting there saying to myself "Yes! Thats me!!".

I run an online store as a side project. I started the online store about 18 months ago. As with most small businesses it always takes a while to get them going and on a regular basis I contemplate giving up and shutting it down. But deep down I just can't allow myself to do that and so I keep pushing through and trying to motivate myself to overcome the fear of 'putting yourself out there'.
I am now wanting to transition my online store to also have a strong blogging presence. I am in the process of setting up a better blogging platform like you said in your last workshop. Hopefully, I will have it up and running soon!"

- Candice
---
"I am so so excited for this. Honestly I was very on the fence about registering because I am SUPREMELY broke right now. Wee college student here. :) But I'm just in a very interesting place right now where I feel like I am on the cusp of something.
I have so so many dreams and sometimes get so overwhelmed because I am unsure how to proceed to get closer to them. Sometimes it seems downright impossible. And yet, I do believe in myself and I believe each and every one of my dreams is possible. One of the dreams, and the one many others stem from, revolves around growing and improving my blog that I've had for a year now.
I am so passionate about blogging and I know I definitely want to take it to the next level, but it's hard when you're on your own to figure out what exactly to do to start that process. Your course was honestly so affordable and came at such a perfect time and seemed to offer exactly the perfect components, so it was a no-brainer. Thank you for doing this; I have a feeling it's going to be amazing.

- Nicole
---
"I want to get over my perfectionism and get this blog idea I have off the ground. In my head it's this amazing blog which will help a lot of people but at the same time it terrifies me (who am I to write it anyway?!)"
- Lauren
---
"Looking forward to the workshop! My sister and I started a blog last year but haven't really been "all in" yet. We put the site behind a lock screen and are currently getting ready for a "relaunch", including a new podcast."

- Bre'Ana


---
"I'm so excited to learn a lot of new things about blogging and I want to learn everything from the very beginning about blogging - include the technique of blogging and the most important is about how to overcome fear to blogging.
I also want to know how to choose the topic for my blog and how to keep the consistency of the topic. I really want to learn from your step by step in blogging because I really don't know what I have to do and where I can learn about that. I really need your advice about this, because I'm sure that you've already through thick and thin in blogging and you know how to deal with them. I really want to get serious about blogging and if it's possible, I want to learn how to make money from blogging."

- Anna
Questions You Might Have:
What if I'm too boring to be successful? I had this fear too! Turned out it was just a classic case of self-doubt. I'll be teaching you how to deal with that in the workshop.
What if I've already started my blog but I abandoned it? This workshop will be perfect for you! I'll help you uncover the reason you abandoned your blog and everything you learn will make you feel inspired to pick it back up (or to start a fresh one - the choice is yours).
Is the workshop live? This workshop was held live on Sunday, 1 July 2018 so no, this isn't a live workshop anymore BUT it'll feel like you were there live and you'll be able to do the workshop at whatever time is most convenient for you.
I'm so busy at the moment, how am I going to find the time to do this? Girl, I've got you covered! You'll have ongoing access to everything so it'll all be at your fingertips when you're ready to get started.
How long will I have access to everything? Your lifetime, literally. Though the longer you wait to grow your blog, the more competition there will be and the harder it will be to get noticed - so I don't recommend putting it off for too long!
What will I need? Just the ambition to be a successful blogger and an internet connection. If you don't have access to a printer you'll still be able to read the workbook online!
What currency can I pay in? You can pay in your local currency via Paypal, debit card or credit card. The price of the workshop is in USD.
How much time will I need? You'll only need 2 hours to watch the workshop (whether you're there live or watching the replay) and a few hours to follow my recommendations. Basically, you'll need MUCH less time than you would if you were trying to figure this out on your own. Spending time on the workbook and getting my personal feedback is optional, but you'll probably feel so inspired you won't be able to stop yourself!
Sign up now for just one payment of $29
note: registration will close strictly at midnight (EDT) on Saturday 25 August 2018



Sorry! This course is not currently open for enrollment.
The longer you put this off, the harder it will be to stand out!
Not sure you're ready to go all-in on your blog? Girl, you're never going to feel ready. And there will never be a perfect time. What you need is a step-by-step guide to set your blog up for success and that's what you'll be getting. Plus being surrounded by a community of like-minded new bloggers and getting my personal guidance won't hurt either.

Don't keep procrastinating - the longer you wait to invest in yourself, the more competition there will be and the harder it will be to get noticed. This is the simple step-by-step guide you need to grow a successful blog. Sign up today.