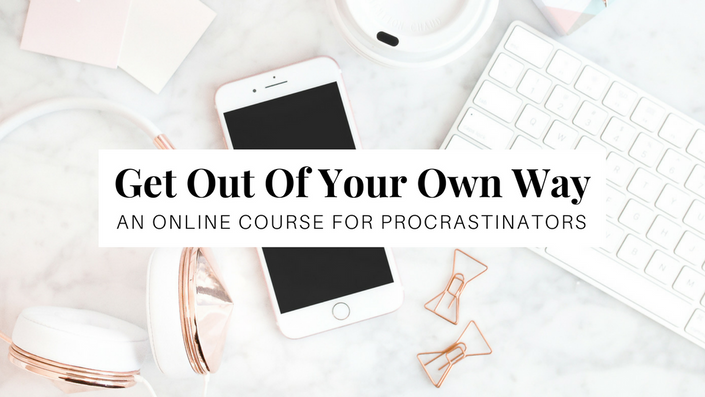 Get Out Of Your Own Way
Beat procrastination, overcome perfectionism and become your best self
WHAT IF YOU COULD ESCAPE THE VICIOUS CYCLE OF PROCRASTINATION AND GUILT?

Guess what... you can!


---
Does any of this sound familiar?


Always procrastinating. You always make plans to improve your life but fear and self-doubt keep getting in the way. You're scared you can't live up to your insanely high expectations so you don't try to live up to them at all.
Longing for a fulfilling life. Your life's great by most people's standards but you know you can achieve so much more. Everyone tells you that you've got potential but you can't seem to move yourself forward.
Lacking self-confidence. You're smart and ambitious but your doubts feel so real. No matter what you achieve, you never feel good enough and don't know how to make that change.
All-or-nothing. You're either doing everything perfectly… or you're not doing anything at all. No matter how motivated and excited you feel at the start, you struggle to stick to anything. You've got too many responsibilities to balance or you're just too exhausted by the end of the day.
Never finishing what you start. You're an over-thinker and hesitate to start anything before you feel ready. Analysis paralysis is a familiar friend and you're scared of being a disappointment.
Craving guidance. You're ready to step into your full potential but work best when someone's telling you exactly what to do. It's easy if you have the right guidance!
---
Did you nod your head to any of that?
You're in exactly the right place!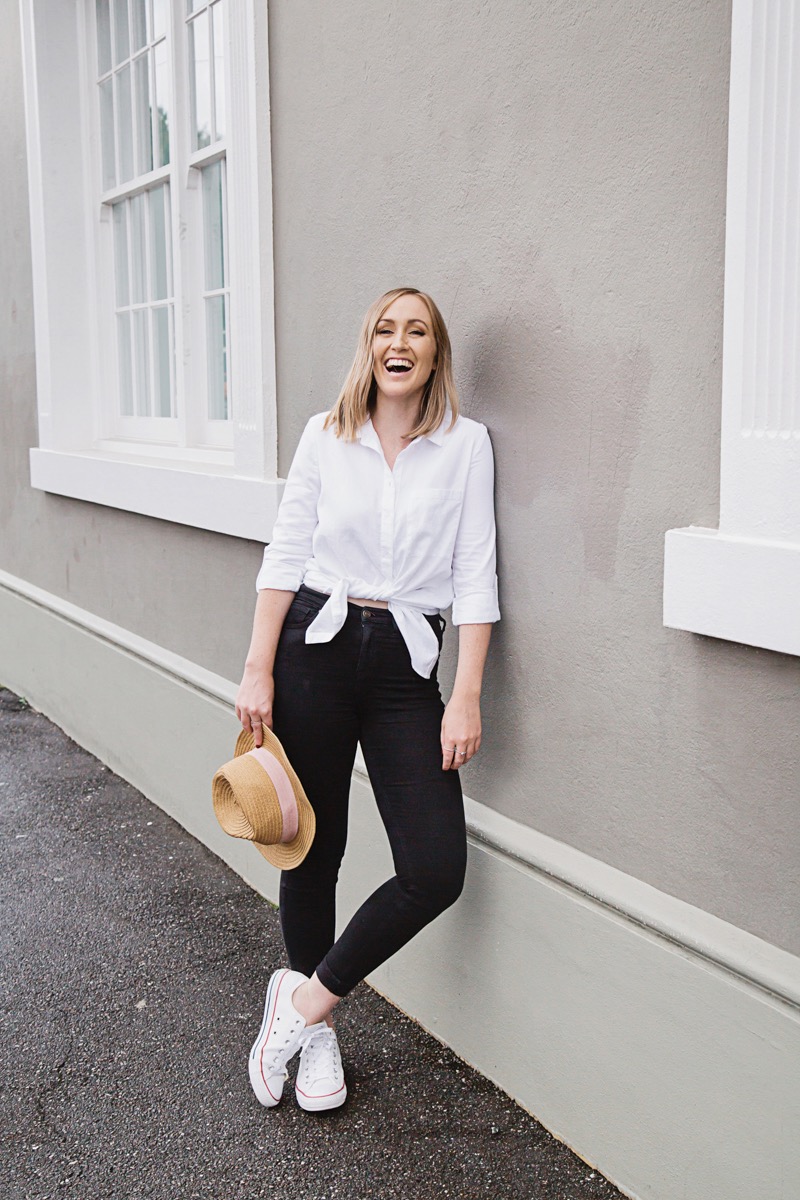 ---
IMAGINE IF YOU COULD...
✔ Stop procrastinating on your dreams and follow through with every plan.
✔ Feel confident in yourself no matter what others think.
✔ Develop deep relationships without needing to hide your true self.

✔ Master time management and rest without feeling guilty.
✔ Courageously pursue inspiring goals even when it's scary to leave what's "safe".
✔ Make a meaningful impact on the world whilst doing work you love.
---
Introducing the course that will help you...
GET OUT OF YOUR OWN WAY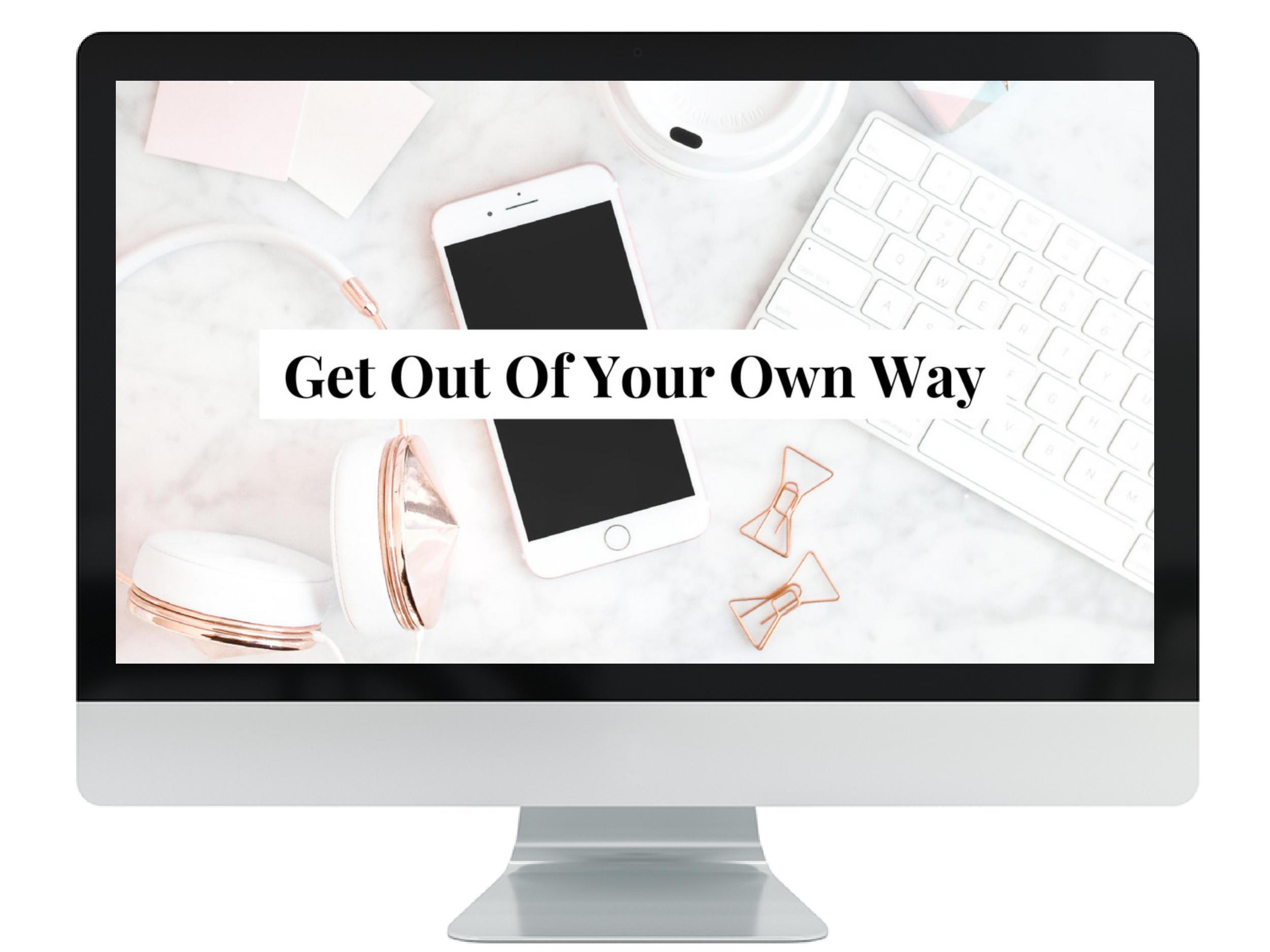 Get Out Of Your Own Way is my online course where I give you some of the basic tools you need to start beating procrastination, overcoming perfectionism and becoming your best self. There's no better time to get the guidance you need than now. Not to mention I've simplified the entire process so it's never been easier to get out of your own way.
Get Out Of Your Own Way is an introductory online course to help you feel more confident and achieve your goals. Created specifically for an ambitious perfectionist like you, this course will inspire you to courageously pursue your potential.
This course is jam packed with the practical guidance you've been craving, broken down into six easy steps. At a fraction of the price of private coaching, this is the step-by-step course you've been waiting for!


I haven't always felt confident...
Just a few years ago, I never felt like I was good enough - no matter what I achieved. My life was great by most people's standards but I knew I was capable of more.
Despite my ambition and love of productivity, I was procrastinating like crazy. When I got home at night, I was too exhausted to do anything but scroll aimlessly through Instagram or watch another episode of my latest Netflix obsession.
Even though I felt like I deserved a break, I never enjoyed it. I just felt guilty for wasting my time and frustrated I couldn't follow through.
Because I felt like I was behind, I just procrastinated even more. Sticking to simple habits felt like I was trying to move mountains and I couldn't make myself follow through - even when I had the best intentions.
I couldn't get myself to change no matter how many hours I spent reading motivational articles on Pinterest or how many times I filled out a new planner. After a lifetime of broken promises I was scared of disappointing myself yet again.
Until one day, I hit breaking point. Enough was enough. Holding myself back was exhausting and I couldn't let it go on any longer. In that moment, I decided I wasn't going to keep wasting my life staying small and trying to make everyone happy but me.
I started investing in myself. I began applying all of the personal development theories I'd been learning. I attended conferences and seminars. I signed up with a coach. I spent thousands of hours learning how to get out of my own way.
And my life began to change. I learned how to stop triggering my all-or-nothing mindset. I figured out how to stop letting fear of judgement define my ambitions. I realised things about myself and my past I'd never realised before.

Soon enough, my 'not good enough' story started to fade. I went from having a secret blog (that I was too ashamed to tell anyone about) to building a thriving full-time coaching business, and creating work that inspires hundreds of thousands of women around the world.
I went from procrastinating and feeling guilty to a $400k/year business, and actually enjoying Netflix when I watch it (without all the self-loathing).

And most importantly, I stopped feeling like a failure. I went from being a victim of my life to feeling in control, organised and like I was finally getting my life together. And habits like healthy eating and working out (which used to be SUCH a battle) are now easy to stick to.

I wasn't born confident but that hasn't stopped me from getting out of my own way and starting to live the life I always knew I was capable of creating. I just needed to learn how to get my perfectionist mindset to work for me, not against me.
If I could do it, you can do it too.
SO, WHAT'S INCLUDED?
This introductory online course is the next step towards your full potential. You'll gain immediate access to six modules with multiple lessons containing videos and action steps to take. It's filled with the practical advice you've been craving, broken down into six easy steps.
Designed to take the overwhelm out of personal development, this course will help you start to become the best version of yourself that you can be. With lifetime access making it possible to learn and grow at your own pace, you'll finish the course feeling more confident, inspired and motivated than you've ever felt before.
MODULE 1 - PERFECTIONISM
Perfectionism stops so many smart and ambitious people from reaching their full potential - without them even realising it. Learn everything you need to know about the mindset that's causing you to procrastinate, overthink and hold yourself back. Discover the ways your perfectionist mindset is actually working against you, instead of for you. Learn why mantras like "done is better than perfect" won't help you reach your goals as quickly as you know you can, and how to create a growth mindset so that you can become your best self. You'll finish this module feeling like you're no longer alone and excited to work on yourself.

MODULE 2 - SELF-CONFIDENCE
Perfectionists live in indecision, hide their true selves from loved ones and give up on their goals - but it doesn't have to be that way! Learn practical ways to increase your confidence, deepen your relationships and make important decisions with ease. Understand why there's more to confidence than "faking it til you make it" and how to create a mindset that will pull you towards success. You'll finish this module feeling like you're good enough and motivated to set inspiring goals.

MODULE 3 - GOAL SETTING

Fear of disappointment and the need to do everything at once keeps perfectionists stuck. Discover how to create goals that aren't overwhelming or boring and get the answers to your burning goal setting questions. Learn how to avoid common goal setting mistakes and the easiest way to use your all-or-nothing mindset to your advantage. You'll finish this module feeling prepared to create the change you've been yearning and positive you won't disappoint yourself.

MODULE 4 - PRODUCTIVITY

Following through with plans is where most perfectionists come undone - but only because they don't know the strategies that truly work. Learn practical ways to plan your time so stress and burnout become a thing of the past. Discover how to finish what you start and rest without guilt so that success has never been easier. You'll finish this module feeling excited to get out of bed in the morning and ready to work towards your dreams.

MODULE 5 - PROCRASTINATION

Procrastination may be a lifelong habit but that doesn't mean you can't easily change! Discover how to go from chronic procrastinator to focused high achiever, without needing to use willpower. Learn powerful tools to help you create a new identity and become the kind of person you know you're capable of being. You'll finish this module feeling confident you can achieve even the scariest goals and committed to creating change.

MODULE 6 - MOTIVATION

Everything will come together as you discover the ongoing strategies to create a meaningful career and meaningful relationships. Learn the easiest ways to keep yourself accountable, understand when you need to change your goals and uncover the personal growth habits that will attract sustainable success. You'll finish this module feeling excited to create your dream life, motivated to follow through and prepared with actionable steps to help you say good-bye to overwhelm.

---
BECOME THE BEST VERSION OF YOURSELF THAT YOU CAN BE



Here's just some of what you'll learn in this online course:
✔ The real reason you haven't been able to stop procrastinating (hint: if you just needed a fancy tactic or app, you would have found it on Pinterest by now).
✔ The practical things I did to stop getting in my own way even though I didn't know exactly where to start.
✔ How to follow through with your plans even when you get distracted, stop feeling motivated and are scared of what other people think.

✔ The difference between a high achiever and a perfectionist, and why a lifetime of procrastination doesn't mean you can't easily become productive, focused and organised.
✔ Why your intellectual knowledge that you have potential isn't enough to stop you from shrinking your world and avoiding incredible opportunities because someone might say 'no'.
✔ How to let go of other's expectations without being rude and your insanely high standards without sacrificing results.
✔ The sneaky ways you've been sabotaging your habits, like waking up early and healthy eating, and how to catch yourself when it happens.
✔ Practical exercises that will help you uncover the beliefs that have been blocking your success and how to create new beliefs in their place (tip: superficial 'positive thinking' isn't the answer to creating real mindset shifts).
✔ The tools and mindset shifts you need to stop procrastinating, follow through with all your plans and have the courage to finally pursue your dreams.
✔ How to 'feel the fear and do it anyway' and stay motivated to achieve your goals.
✔ And much more!
WANT AMAZING BONUSES? YOU'VE GOT THEM...
DECISION-MAKING MASTERCLASS (valued at $127)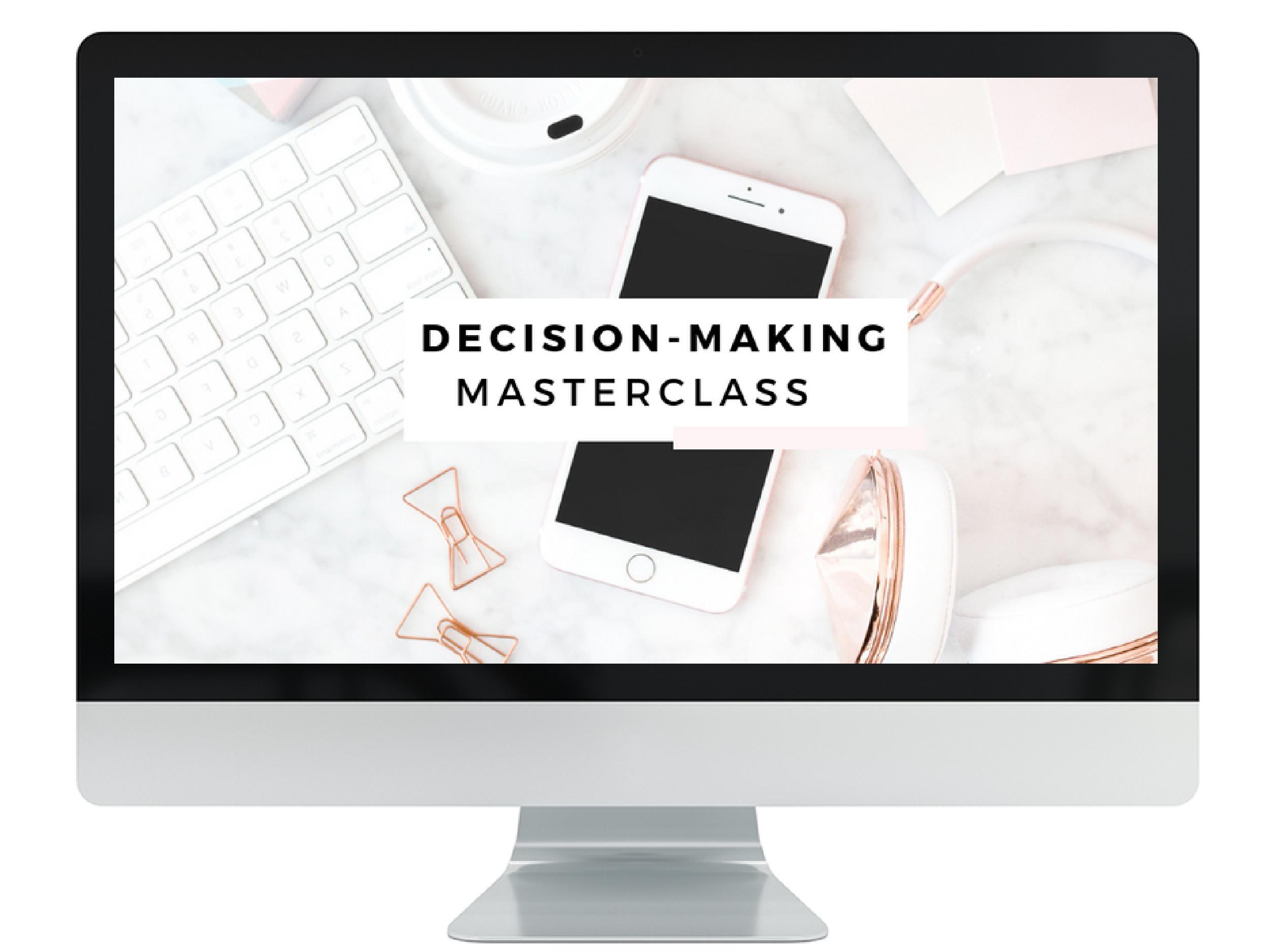 In this bonus masterclass you'll learn:

✓ The hidden reasons you overthink and overanalyse
✓ How to make important decisions with ease, no matter how scared you feel
✓ Practical frameworks for powerful decision-making (beyond the pros vs cons list)
✓ How to overcome analysis paralysis and move past your fear of making the 'wrong' decision
✓ An easy mindset exercise that will make every decision obvious
✓ How to avoid the biggest mistakes perfectionists make with decisions
BOUNCE BACK FROM DISAPPOINTMENT (valued at $127)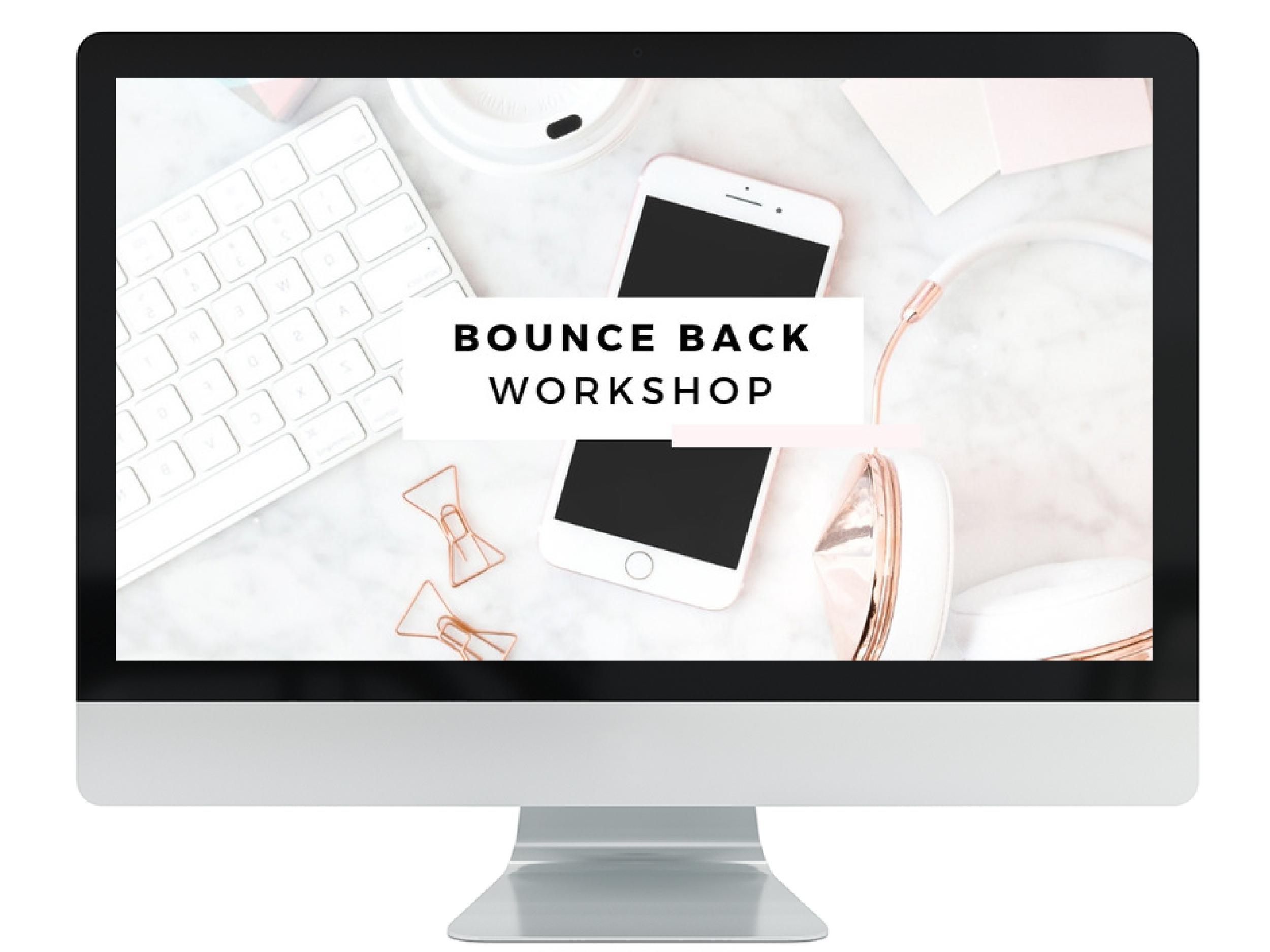 In this bonus workshop you'll learn:
✓ My best advice on handling negative feedback, criticism and rejection
✓ The single most important thing to do immediately after receiving bad news
✓ The truth about fear of disappointment and why it's keeping you stuck
✓ Practical ways to turn disappointment into opportunity, even when you feel discouraged
✓ A simple mindset shift that will eliminate procrastination and motivate you into action
✓ The worst things you can do after a disappointment and how to avoid them

COACHING CALL REPLAY RECORDINGS (valued at $247)
Get Out Of Your Own Way will help you start to beat procrastination, overcome perfectionism and become your best self - but that doesn't mean questions won't pop up! That's why I'm sharing with you coaching call replay recordings answering the most popular questions I've gotten from students. Don't miss this opportunity to jumpstart your success by listening to these replay recordings - without the price tag.
DON'T JUST TAKE MY WORD FOR IT
"I sent you a message yesterday requesting a refund for your course because it was only videos and I want to take it back! I started watching the first video and you've 100% won me over. So keep my money please!!!"
- Sara

---
"I just want to let you know what a huge, huge difference this course has made for me. I actually enrolled in this course because I hit a road block with the Tony Robbins course I am doing. As absolutely amazing as he is, Tony's course has lacked the right progression of topics or exercises to be able to break through my blockages. But your course, well, pretty well smashed through them and opened up things about my past that I've never realised before.
You helped me achieve a huge breakthrough! The way you have composed this course is brilliant. Maybe it's your approach, the way you describe your own experiences that's so relatable, I don't know, but whatever it is, you have done an absolutely amazing job!!"
- Emmalee
---
"I truly loved the course. It kept me focused and allowed me to think about everything I was doing that kept me from creating new habits. Everything you said in the course was exactly how I am and what I am doing. I remember those key points everyday when I don't feel motivated to keep my new habit. Thank you!"
- Morgan
---
"This course encouraged me to (finally) launch my blog! Like, it's live! Thank you for giving me the motivation I needed to do it!"
- Elisabeth
---
"Everything you have said in the course is 100% accurate!! I knew that my perfectionism was hold me back but I never realised to what degree. I alway have these great ideas on how I can improve my life but I find it so hard to even start something. I always blamed it on motivation or my anxiety. Thank you sooooooooo much for sharing."
- Chani
---
"I'm loving this course. I'm the queen of procrastination and putting off the things I want to do for fear of failure and lack of consistency. I have started to get up earlier in the mornings, which I'm loving!"
- Lindsay
MEET YOUR MENTOR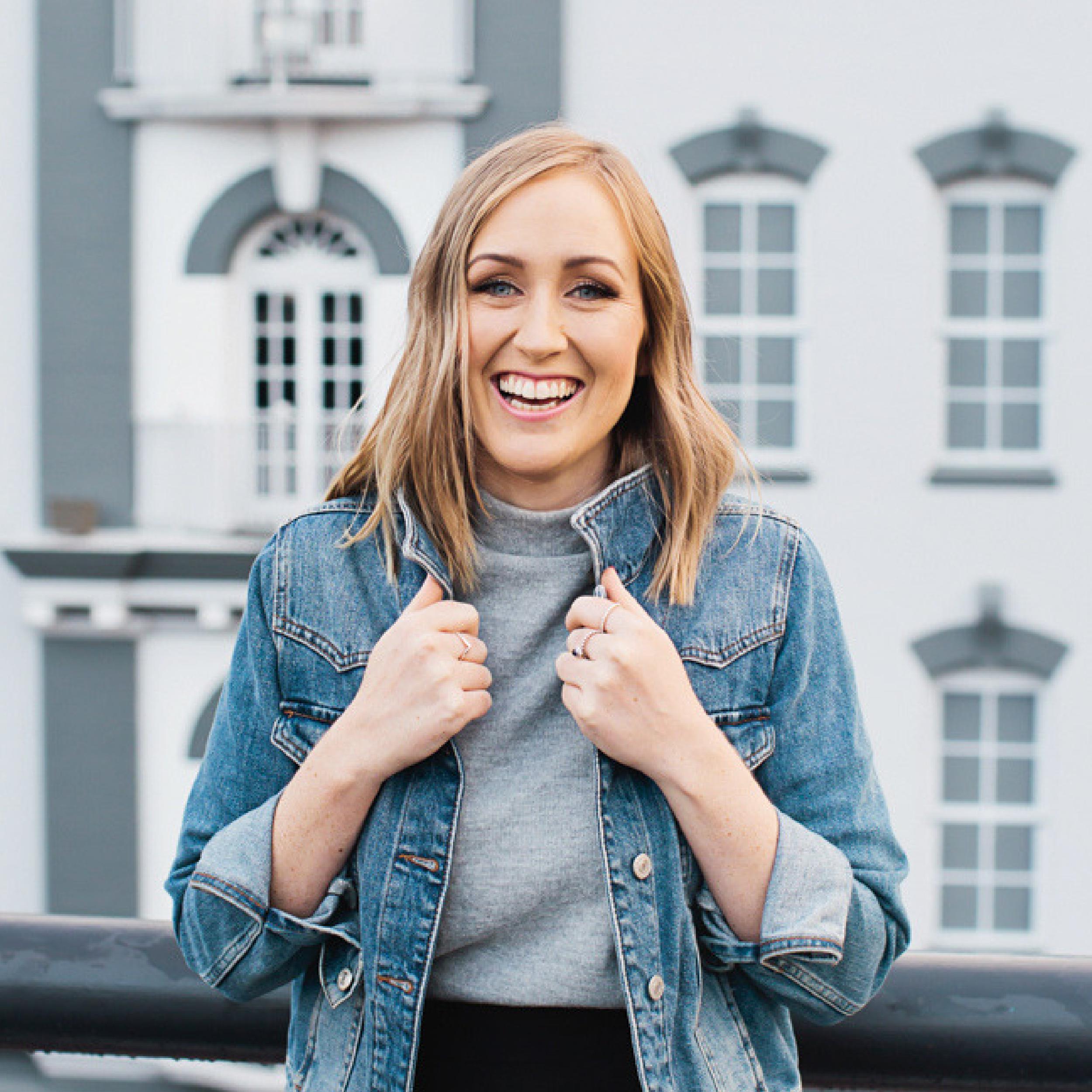 My name is Sam Laura Brown – I'm the founder of Perfectionists Getting Shit Done and host of the top-rated personal development podcast, The Perfectionism Project.


I'm SO excited for you to begin this course and start your transformation. There's no better time than now to get your life organised and put your feet on the right path.
This online course is full of practical steps that I've learned along the way that will help you begin to beat procrastination, overcome perfectionism and become your best self. My step-by-step process hasn't just worked for me but for countless perfectionists who are now courageously pursuing their potential. What are you waiting for?
---
QUESTIONS YOU MIGHT HAVE
How much time will I need?
The program is self-paced and you'll have lifetime access but if you want to do one module per week, you'll need 1-2 hours per week for six weeks.
I'm so busy at the moment, how am I going to find the time to make the most of this?
Perfectionists love having a full plate of commitments, so I totally understand! You'll have lifetime access to everything so you can do the work whenever you're ready.
How does this course work?
There are six video modules that you'll get instant access to as well as an accompanying workbook.
You'll have lifetime access to everything in this course so you can learn at your own convenience and watch each video as many times as you need.
How long will I have access to everything?
Your lifetime, literally.

What will I need?
Just the desire to get out of your own way and an internet connection. You'll be able to see everything online and from your phone.
What if I fall behind?
There's no need to worry, Get Out Of Your Own Way is a self-paced that comes with lifetime access! There is no behind.

What if I'm just not capable of changing?
How you've acted in the past isn't who you are. With my step-by-step instructions you'll be able to begin to change the underlying beliefs that have been causing you to get in your own way. I never say anything like 'choose to be happy' or 'just think positive thoughts' as I've personally found this superficial advice isn't helpful. GOOYOW is a proven transformational course and everyone is capable of transforming. I've seen major transformations from this course time and time again.

I know it's important to invest in myself but I don't want to disappoint myself...
Most people spend money they don't have to buy things they don't need to impress people they don't like. And most people are miserable. Your mindset, not your possessions, is what determines how you experience and navigate the world. Your mindset is the most important thing you could invest in. Don't miss out on making that investment just because the people around you don't get it.

How do I know if your course will work for me?

If you struggle with any of these things, Get Out Of Your Own Way can help you: procrastination, over-thinking, imposter syndrome, fear of failure, fear of success, fear of judgement and what people think, overwhelm, people pleasing, excruciatingly high standards, self-confidence, never feeling good enough no matter what you achieve...just to name a few.
When does enrollment for this course close?

The doors for GOOYOW will close strictly at 11:59pm (EDT) on Tuesday, 1 June 2021. You won't be able to sign up for GOOYOW after this time.
How much will I need to invest to join Get Out Of Your Own Way?
Get Out Of Your Own Way is just one investment of $333 USD. Click the pink button to join today and take the next step towards your potential.


What currency can I pay in?

You can pay in your local currency via Paypal, debit card or credit card. The price of the GOOYOW course is in USD.
Join before the doors close!





Note: The doors to GOOYOW will close strictly at 11:59pm (EDT) on Tuesday, 1 June 2021.
Get Out Of Your Own Way is NOT for you if…


✖️ You're looking for quick-fix procrastination tips. The reality is that you've already read dozens of articles with the 'top 10 tips' on how to stop procrastinating and you're still doing it. I'm only interested in teaching you the stuff that really works - how to create a mindset shift so you can quit making excuses and make a change.
✖️ You're afraid to dig deep and find out the real reason you've been getting in your own way. You'll need to be honest with yourself to make progress. This isn't always easy.
---
Get Out Of Your Own Way is for you if…

✔️ You've decided to finally make a change in your life but need someone to guide you through the very first steps. You're open to getting the push you need to make that change.
✔️ You want to start following through on all of your great plans and ideas. You're ready to be a dreamer AND a doer.
✔️ You're willing to invest some of your time to create the mindset shift that will you help you get out of your own way and dramatically improve your life.
✔️ You're focused on the long-term. You understand that life is a rollercoaster, but your experience of it can be infinitely better if you put the time and effort into improving your mental wellbeing.
✔️ You're willing to have been wrong about yourself and 'who you are'. You understand that loving yourself as you are now will not reduce your ambition and results, and in fact will only propel you forward.
Be the one who got out of their own way
Think about what you want your life to look like one year from now or even six months from now. Do you have a plan to make it happen? Do you have the mindset to get there? Do you have the time to figure out how to do it yourself? If you don't have a plan to achieve your goals, you won't reach your full potential - that's the reality.
If you want to reach your full potential, Get Out Of Your Own Way is the course you need to start making it happen. Click the button below to join now and take the next step towards your dream life.
Sorry! This course is not currently open for enrollment.